Right Angle
Gearboxes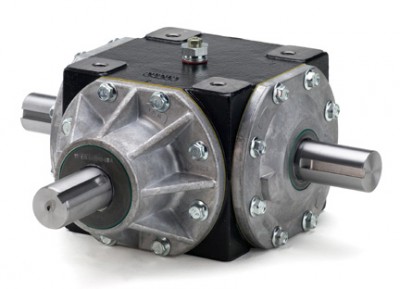 Tailored to the Needs of a Design Engineer.
Selection:
Models up to 200 hp
Choices of gear types and ratios
Speed reducing and increasing models
Direction of rotation options
Hydraulic motor input flange option
Configuration options
Extended Working Life
Every aspect of Von Ruden's Right Angle Gear boxes is designed to deliver superior value, from press-fit gears and bearings for superior rigidity and maximum performance, to properly shimmed gears and bearings for consistent backlash. No paper or plastic shims here; metal shims are used throughout. Tapered roller (not ball) bearings also throughout. Aluminum end caps and pinion housings on most models for improved heat dissipation. High strength steel alloys – gears cut from 8620 steel, then carburized and hardened. Improved shaft seals – spring loaded double lip design – one lip seals in the oil, the other seals out dirt.  All shafts are specially ground/burnished at the seal area for extended life.